On your iOS device:
Click on the Settings icon (the gears) and scroll down
Select Mail, Contacts, Calendars

Note: In iOS 10.1.1, scroll down and select Mail

Select Add Account
Choose Microsoft Exchange or Exchange

Note: In iOS 10.1.1, select Accounts, Add Account, Exchange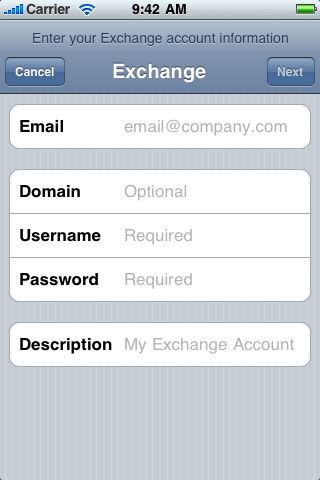 If prompted for the protocol, select ActiveSync.
In the Exchange dialog box, enter your email address, password, and a description of the account.
Leave the Domain field empty
Choose Next

Just so you know, if your account cannot be found, you are prompted to provide the name of your Exchange server, domain, user name, and password.
The server name is mobile.mail.us-east-1.awsapps.com
If you are prompted again for the user name, it is your email address

(first.last@example.com)

If you are prompted again for the domain, it is your domain name

(example.com)

In the Exchange confirmation dialog box, select the items to synchronize with your device, and then choose Save.
Some customers prefer a more modern email client. Please install the VMware Boxer email client and use this application to connect to the email system.