There are multiple ways to restart your phone. Please use any of the following options that is most convenient for you.
If the phone has a power supply, unplug it from the outlet and plug it back into the power outlet.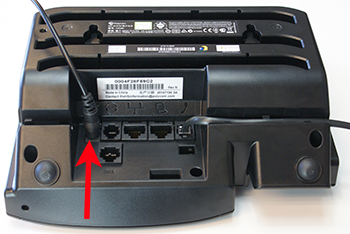 If the phone doe NOT have a power supply, unplug the Ethernet network cable in the LAN port of the phone - the cable that goes from the wall to the phone.  After a few seconds, plug it back in. In the picture below, the cable that needs to be unplugged is the blue color cable.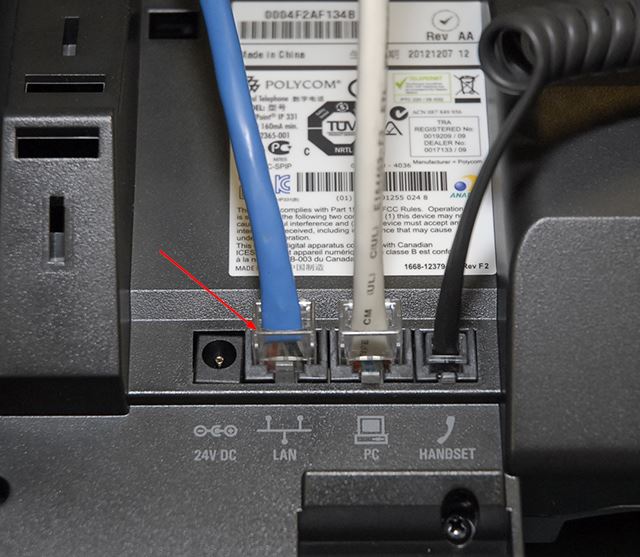 Menu System
Press the Menu key and select Settings > Basic > Restart Phone > Yes
Multiple Key Combination
You can use a multiple key combination to restart your phone. Depending on your phone model, press and hold the following keys simultaneously until you hear a confirmation tone (for about three seconds):
IP 321, 331, 335: Volume-, Volume+, Hold, and Handsfree
IP 450, 550, 560, and 650: Volume-, Volume+, Mute, and Messages
IP 6000: *, #, Volume+, and Select
IP 5000,700 and SoundStation Duo: *, #, Volume-, and Volume+
VVX 1500: Delete, Volume-, Volume+, and Select
VVX 500, VVX 600 and SpectraLink 8400 Series: 0, 1, and 3 dial pad keys.
VVX 300, 310, 400, 410: dial pad keys 0, 1, and 3 while the phone is off hook